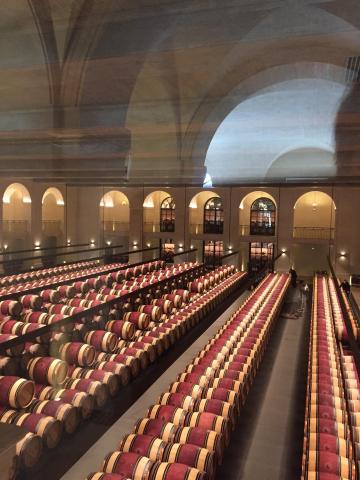 Lad os slå det fast med det samme: Årgang 2017 er ikke på højde med hverken 2015 eller 2016. Men mindre kan også gøre det og med de udfordringer der har været i vækstsæsonen taget i betragtning, er der blevet produceret flotte vine.
Det generelle kendetegn ved årgangen er en tør periode i januar og februar. I enkelte områder taler man om op til 40% mindre nedbør end i tidligere gennemsnitlige årgange. Marts måned var mild og temperaturen ca. 2 grader højere end normalt. Det har betydet en tidlig igangsætning af hele vækstsæsonen, og i april var man allerede godt i gang med væksten i markerne. På dette tidspunkt var der ingen tegn på problemer, men da man oplevede nattefrost ned til ca 5 minusgrader, natten mellem d. 27. og 28. april, blev næsten alle slotsejere udfordret. Beliggenhed har betydet kolossalt meget for det enkelte slots påvirkning af frosten. På Medoc har det betydet alt fra ingen høst, til næsten normal høst. Jo tættere på floden man ligger, jo mindre berørt har man været af frosten. I hvilken højde ens marker ligger, har på højre bred haft betydning for omfanget af frostskader. – Men ikke kun beliggenhed har haft betydning - også hvorvidt man har haft ressourcer (læs: penge) til enten at forebygge eller i nogle tilfælde at udbedre skaderne.
Ved hjælp at metrologiske varsling systemer, har man kunnet forudse at der kom frost. Alt efter ens ressourcer og midler, har man kunne tænde små bål rundt omkring i markene eller leje helikoptere til at skabe luftcirkulation og varme omkring vinstokkene, således at de sårbare vinstokke tog mindst muligt skade. Efterfølgende har man ved en gennemgang kunnet konstatere hvilke planter som var ramt af frosten.
I visse tilfælde har man endda kunne om-pode på de frostramte vinstokke og har således kunne skabe en 2. generations vækst. Det vil med andre ord sige at man i samme vinmark/række har kunnet have to stadier af vækst. Denne viden har man taget med sig videre til høsttidspunktet for at optimere høstudbyttet. Det har krævet store manuelle arbejdskraft-ressourcer, men for dem som har gjort dette store arbejde, er resultatet/gevinsten at man næsten har fået en "hel normal høst". En årgang som absolut ikke er på højde med hverken 2015 eller 2016, men som sagtens kan måle sig med gennemsnittet.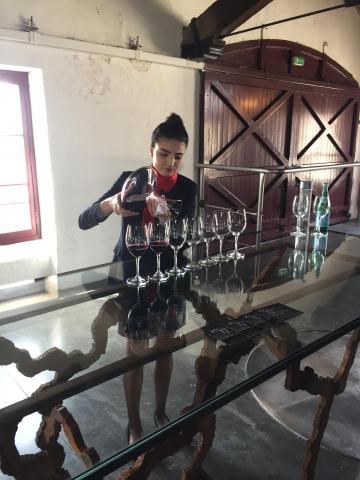 Efter at have tilbragt en hel uge i Bordeaux, har vi gennemsmagt alle områderne - og rigtigt mange af vinene mere end én gang. Vi har en meget præcis fornemmelse af, hvor og af hvem der er blevet lavet god vin i 2017.
På Medoc har især Margaux været hårdt ramt. Vores egen Château Angludet har som et eksempel, helt valgt ikke at komme ud med en vin i år. Men også i år er det vine som Giscours , Labègorce, Lascombes og Rauzan Segla som har præsteret bedst. På Châuteau Palmer er de også ret stolte, og med rette, over hvad de har præseteret. Både Alter Ego og Palmer er vine som er væsentligt over gennemsnittet i området.
Saint Julien, har som område klaret sig fint og har generelt lavet nogle dejlige velafbalancerede vine. Især har Gruaud Larose, Beychevelle og Leoville Poyferre præsteret flot. Men også Leoville Las Cases er blandt dem som har klaret sig rigtig flot. Pauillac er nok det område, som generelt har klaret sig bedst fri af frost og lavet vine som i et gennemsnitligt år. I området har vine som f.eks. d'Armailhac, Haut Bages Liberal og begge Pichon'er - Comtesse og Baron - alle lavet vine som er værd at holde øje med. Derudover har Grand Puy Lacoste lavet vin på et rimelig højt niveau. Også Château Lafite og Mouton lægger sig i toppen af præstationerne i appellationen. Og så har jeg da helt glemt at nævne Pontet Canet, som også har lavet en rigtig flot og genkendelig vin.
Længere nordpå i Saint-Estèphe, er det vine som Cos D'Estournel, Monrose og Calon Segur som udmærker sig blandt de bedste i området.
Blandt vinene som er klassificeret under Haut-Medoc er tommelfingerreglen nok den i år, at jo nordligere man kommer jo bedre og mere genkendelige bliver vinene i forhold til hvad de tidligere har præsteret.
Går man til højre bred og til Saint Èmilion i særdeleshed, er det her de "stærkeste" (dem med flest penge) har klaret sig bedst. Slotte som Angelus, Figeac og Canon er alle udtryk for dette. Stjernen over alle er efter min bedste overbevisning Cheval Blanc, som har gjort et kæmpe arbejde for at lave god vin i 2017 – og det er de lykkedes med.
I Pomerol er det vine som La Conseillante, Clinet, Feytit Clinet og Gazin, som efter min mening har det flotteste udtryk. Men også Château Beaurregard er værd at holde øje med.
Endelig er vinene fra Pessac Lèognan et område som kan være meget svingende – det er de naturligvis også i år, men flere af de hvide vine overrasker positivt og har en behagelig friskhed og en naturlig syre. Går vi til de røde vine, er der også her et stort spænd fra top til bund, men vine som Carbonnieux har klaret sig til en placering i den bedste tredjedel. Også Latour Martillac, Malartic-Lagraviere og Larrivet Haut-Brion har gjort det rigtig godt. Helt i top ligger vine som Domaine Chevalier, Pape Clemant og også Les Carmes Haut-Brion fortsætter sin stigende kurve, som vi har set de seneste par år.
Skal man drage en samlet konklusion over årgangen 2017, må det være, at trods både den svære fødselsforberedelse og svære fødsel, har "barnet" overlevet og kan på mange punkter se frem til en lysende fremtid når man tager hensyn til omstændighederne og det overordnede potentiale.
God fornøjelse med En Primeur kampagnen 2017 - og tøv ikke med at skrive eller ring til os, hvis der er noget du ønsker uddybet.
Læs alt om Bordeaux En Primeur 2017.